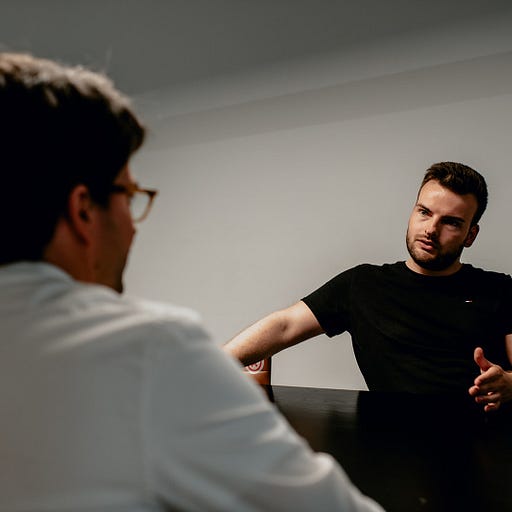 Sep 14, 2021 • 15M
How To Onboard and Offboard Employees
Part 3/3 in the newsletter series on hiring.
Mistakes of experienced founders and practical tips on how to avoid them: hiring, sales and going global.
👋 Hey, Robin here!

Welcome to this month's edition of my newsletter. I'm on the road to interview experienced founders in my network to discover their greatest mistakes and how to avoid them. Send me your questions, and I'll gladly take them on the road with me.

Did you get this newsletter forwarded? Subscribe to get it directly in your mailbox every month 👇
Tip: Most founders forward this newsletter to their HR manager.
---
In a nutshell, what can you learn from this?
The best way to get your employees ramped up is by an onboarding programme:
Week 1 & 2 - Integrate: Organize group sessions with everything they need to know to get started, information on your mission, vision and culture and how your company works.

Week 2 & 3 - Execute: You want them to start performing their jobs in the second and third weeks. Assign a mentor that can help them adjust if necessary.  

Week 4 & 5 - Share learnings: Let the new colleague share the points of improvement they spotted during their first month. 
Once your new employees are onboarded, you need to do these three things:
Evaluate: Follow up on their performance by scheduling regular check-ins.

Turn into ambassadors: Attract more great talent by rewarding your employees.

Offboard: When it doesn't work out, let them go quickly. But do not forget to collect their input.
---
To continue my mission of collecting the best hiring advice from startups, here's the final part of this newsletter series on hiring:
Part 1: Where To Find More Candidates 👀 (read it here)

Part 2: How To Interview Your Candidates In 4 Rounds 👂(read it here) 

Part 3: How To Onboard and Offboard Employees 👋 (Today!)
In the last newsletter, you read how other founders evaluate candidates in four rounds. They do so to check if the applicant matches the culture, the necessary skills, and the company values. Great.
Now let's take a look at how to onboard those new employees once you've hired them. Or offboard them if you'd have to let them go. 
One of the many lessons other founders taught me is to set expectations for every new hire with a solid onboarding programme. 
You probably started by doing everything yourself at your startup. So you might expect this from your employees too. But that's not how it works.
That's why I distilled three phases of a great onboarding programme from my chats with founders. 
The result? Your new employees will understand from day one how they contribute on three levels:
Company level,

Team level,

And at the individual level.
Here we go!
Onboarding Phase 1 - Integrate (week 1-2) 
Did you know that the ideal onboarding programme is quite short? Six weeks, to be precise.
In the first two weeks, you want the new employees to learn as much about your company as possible. You can't skip these three types of sessions:
Practical sessions: The first few sessions give your employees all the helpful information they need to get started. Assist them in setting up their laptop and installing the necessary tools. Give them information on HR processes. Tackle topics like information security. 

Mission, vision, and culture sessions: You want to inspire the newbies with your story during these sessions. One of the founders talks about how the company came into being, where you want to go and what you want to stand for.

Organisational sessions: In these sessions, you want the new employees to understand how your company works and who you are selling to. Who is responsible for what in each team? Who is your customer? What does the customer journey look like? 
Apart from these three general sessions, each person will need job-specific onboarding sessions. Ask the peers of the new employee to put this together.

As you can see, the first two weeks are all about soaking up new information. This might be overwhelming. Consider using software, like a Notion template, to help your new employees keep the overview. List things like: 
Practical info: where to get a laptop, what tools to install, …

Meeting info: which persons should they schedule a (virtual) coffee break with? 

Onboarding info: which sessions should they follow
This will not only be helpful but also feel like a warm welcome.
And here's another idea to make the first onboarding phase even more efficient: 
"To scale our onboarding process we have recruitment batches that start in the onboarding program every first Monday of the month."

— Thomas Lepelaars (Founder & CEO at Nodalview)
Onboarding phase 2: Execute (week 3-4) 
The second phase is about making sure the employee gets ramped up as quickly as possible. They need to start executing their job.
For example, new employees with a sales function begin making the first sales calls themselves. Customer care agents start giving support, and so on. 
In this phase, most founders assigned a mentor to each new employee. Someone who can listen in on their first calls, help them answer questions, solve doubts and give them feedback.
You throw them in the water, but not without a rescue belt.
Onboarding phase 3: Share learnings (week 5-6) 
In the final onboarding weeks, it's time to reverse the roles. In their first month, the new employee probably spotted some improvement points in your company.
Let them present those learnings to the rest of the team. Ask them to write a report on what goes well and what could go better. You will get a fresh perspective about how things are going at your own company.
New people join your company with an 'outsider's perspective'. Use this opportunity to learn how to improve your company's processes. Because after a few weeks in your company, they start losing the ability to see things as an outsider.
That's why it is crucial to ask the employee to share their ideas in the beginning. 
How to make sure your employee stays on track? 
Now that the onboarding programme is ending, it's time for the employee to start doing their job. Great!
But, you still want to make sure you track their progress. 
That's why many founders told me they do a one-month trial followed by an evaluation meeting. In this meeting, they evaluate whether the employee is reaching their one-month goals or not.
If new employees are nowhere near or not fitting in the team as expected, it might be a signal that you should already let them go.
In most cases, however, the evaluation will be positive. So afterwards, you start reviewing their progress in your regular evaluation cycles.
Here's how most startups organise their evaluation process: 
Four times a year: an evaluation talk with the team lead to see how the employee is doing. There are fixed moments, but this talk can be held earlier at the employee's request. 

Two times a year: a goal-setting talk, where you discuss company goals, team goals, and individual goals. The aim is to ensure every colleague knows what to focus on in the coming months and set measurable goals that leave no room for discussion. Based on the result, the employee can get a salary increase. 
Some startups also use tools like 15Five, Impraise, or Unit4 Intuo to keep the finger on the pulse, manage performance and shorten feedback cycles.
Employee referral programme 
Now that you've successfully onboarded your employee, there's one thing left to do: make sure you transform every employee into an ambassador.
Why? Because setting up a referral programme can help to incentivise people to bring in more great talent for your company.
"If you set up a referral programme, give employees a real reward. Not some book token or voucher. If you have to rely on a referral programme, give a lot of value in return. We pay €2500 for a referral candidate and only pay it after they have been successful for six months. That way, employees are triggered to bring in good people."

— Annelies den Boer (COO at Speakap)
Offboarding 
Unfortunately, at some point, you will make a bad hire and have to let them go. Or have a great employee that leaves your company. Either way, it s*cks. Learn from these moments and make sure you don't make the same mistakes twice.
You are only as good as your worst player. That's the brake on your company's growth. If you notice someone is not performing up to your standard, talk to them as soon as possible. 
Don't let them muddle along. Keeping a bad employee will infect your good ones - it will make them unhappy, resulting in poor output. 
It costs their team leader a lot of energy. And when you see people from their team leaving for a different job, falling ill, or even taking a trip around the world… it will be too late. As the saying goes, the rotten apple spoils the barrel. 
"Follow your gut feeling. Cut your losses. That's something I do much quicker now. In the beginning, it took me 1.5 years to fire people. Don't postpone firing an employee, it will cost you a lot more in the end."

— Wouter Vermeylen (Founder & CEO at Yesplan)
Founders told me that when it didn't work out with an employee, most of the time, it was because there was no cultural fit.
"After 3-4 weeks, you know what type of employee you're dealing with, and in the beginning you put a lot of energy into making it work. In the beginning, it took us a year to fire them, now we literally fire them after 3 weeks. Otherwise, you lose valuable time."

— Jeremy Bonnevalle (Co-founder at Fourcast)
But, what words do you use when you're firing someone?
Well, just be honest and say: "We thought it would work, but it doesn't". Turn this into a learning moment for you, but for them too. 
"If you have to fire someone, tell them why it's not working. If there are conflicts, explain that to the person. Then, over-communicate by sharing a clear plan with them. If you don't give them clarity on what will happen next, you will send the wrong message that you don't know how to advance after they are fired."

— Olivier Delangre (Founder & CEO at Amoobi)
The "clear plan" Olivier is talking about is your offboarding plan. On average, it takes about 2,5 weeks before the fired employee can leave your company.
Depending on the situation and how you part ways, your colleague will still work full-time during the offboarding phase. 
However, sometimes bad feelings can ruin the atmosphere in your company. In those cases, it might be best to only have them come in on specific moments for specific meetings. 
There are a few things you want to cover during offboarding: 
Handover: Make sure the employee does a handover of their work. Let them document as much information as possible that might otherwise get lost.

Input: Collect input on everything the employee was not satisfied with at your organisation. Let their team lead or your HR Manager have a confidential conversation with them. 

Thank them: Set up a personal meeting with the CEO to thank the employee in person for what he has done for your company. You want the employee to leave your company with a positive feeling to avoid negative word-of-mouth.
So that's it. The most important things you need to know about on- and offboarding. And also the end of our first newsletter series.
But don't worry, more interesting topics are coming up: how to reward employees better, set up performance plans, or structure career paths, to name a few. 
You can still read previous parts of this newsletter series here:
Part 1: Where To Find More Candidates 👀 (read it here)

Part 2: How To Interview Your Candidates In 4 Rounds 👂(read it here) 

Part 3: How To Onboard and Offboard Employees 👋 (Today!)
Stay tuned, and in the meanwhile, if you see any other startup founder or leader struggling with recruitment, help them out by forwarding this newsletter series! 🙌